Minister for Economic Affairs visits alliance booth
The Fraunhofer Additive Manufacturing Alliance attracted again many interested visitors to its booth. One highlight was the visit of the German Federal Minister for Economic Affairs, Brigitte Zypries.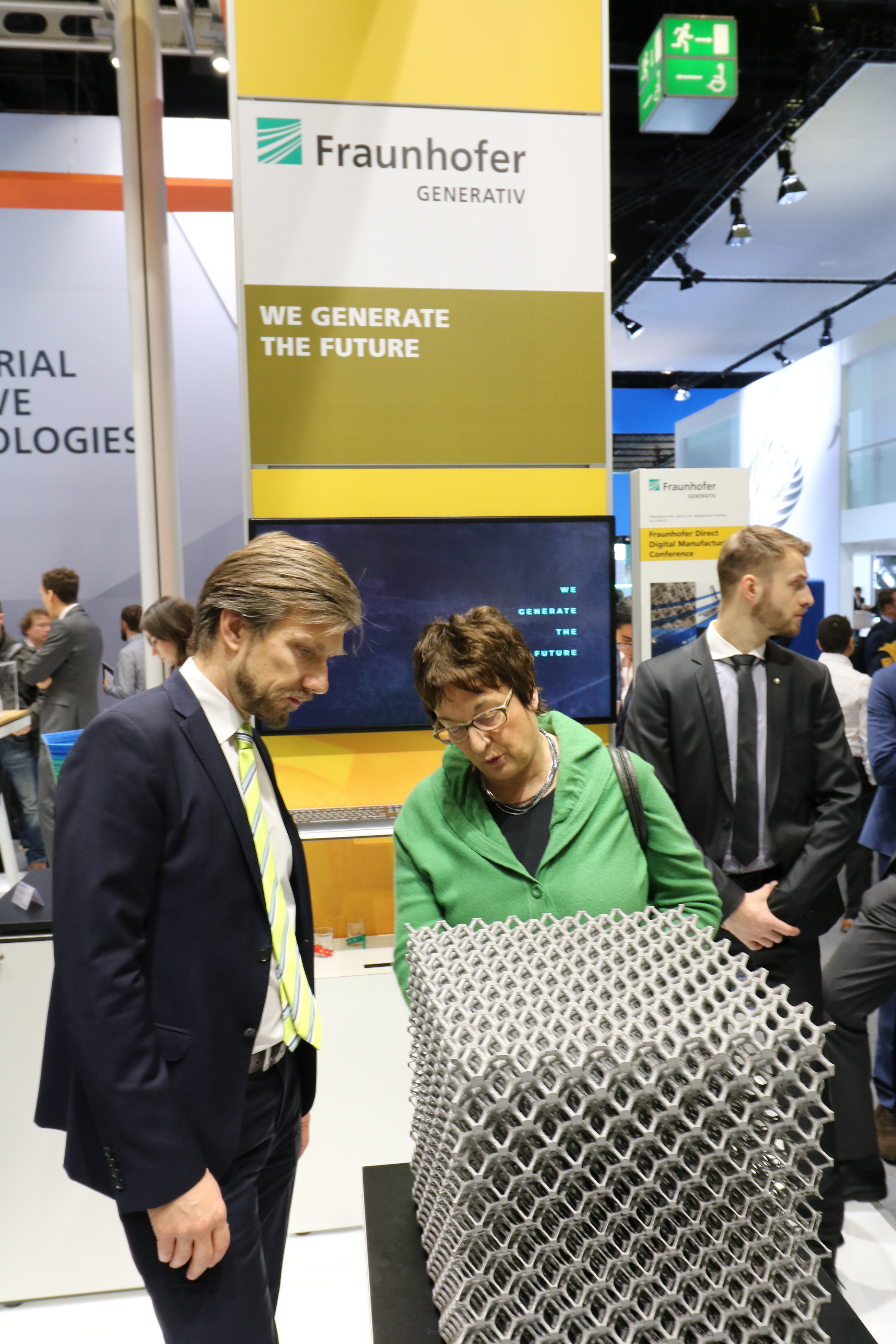 At the joint booth of the Additive Manufacturing Alliance visitors of Formnext in Frankfurt am Main were able to experience versatile solutions for Additive Manufacturing, such as multi-material processing, additively manufactured, fiber-reinforced components and additive manufacturing of metal components.
The Federal Minister for Economic Affairs, Brigitte Zypries visited the Fraunhofer booth at the first exhibition day. On this occasion Dr. Bernhard Mueller, Spokesman of Fraunhofer Additive Manufacturing Alliance, presented her the newest developments in the area of additive manufacturing and 3D-printing and explained the shown exhibits at the joint booth. Mrs. Zypries was especially impressed by the lead exhibit, a large sized refined metal grid cube, developed by Fraunhofer EMI and additively manufactured by means of laser beam melting. She was also impressed by the lightweight skateboard axles of the student Philipp Manger from Jena, which were structurally optimized and additively manufactured by Fraunhofer IWU. The Minister was also fascinated by the human anatomy model of Fraunhofer IGD, which was manufactured for the exhibition in 4D printing.
For the Fraunhofer Additive Manufacturing Alliance, the visit of the Federal Minister for Economic Affairs was a successful start of a very prosperous exhibition appearance. Many visitors were infected by the ideas of Fraunhofer for additive manufacturing and the Fraunhofer researchers were able to establish numerous new contacts with interested industry representatives at the exhibition, who want to develop access to additive manufacturing for their respective companies.
With a record attendance of 21,492 visitors in 2017 Formnext is the international leading exhibition and conference in the field of additive manufacturing and the next generation of intelligent, industrial production.
It is the platform for companies from all over the world for issues of design and product development, industrial tooling, production solutions, quality management and measurement technology, as well as for leading providers in basic materials and component construction.
The Fraunhofer Additive Manufacturing Alliance integrates seventeen Fraunhofer institutes across Germany and persues applied research along the entire process chain of additive manufacturing. It focusses on four research areas: engineering (application development), materials (polymers, metal, ceramics), technology (powder-bed-based, extrusion-based, print-based) and quality (reproducibility, reliability, quality management). Aim of the alliance is to advance applied developments and set trends in additive manufacturing.